Marion Community Multi-Use Path Project
The Marion Township Greenway is the first project phase of connecting our many parks, libraries, businesses, natural green spaces, local landmarks, churches and schools.
The Spiritual Center of Maria Stein intends to donate a permanent conservation easement for the Ohio Public Works Commission Clean Ohio Fund Green Space Conservation Program. Access to the conservation easement is via bike path (i.e., multi-use path for non-motorized vehicles) from Marion Township Park and thru land donated by the Sisters of the Precious Blood. Access to the conservation easement is also from the future Phase III of the Maria Stein Industrial Park.
MAKE A DONATION!
WINNER'S MEATS WINS BIG AT OAMP PRODUCT COMPETITION BRINGING HOME 12 AWARDS BACK TO DARKE COUNTY!
The last weekend in February was a BIG one for Winner's Meats! In Columbus, the Ohio Association of Meat Processors held their annual convention and product competition. Meat packers from all over the state came to enter their products to see how they fare against their competitors. Winner's Meats brought home 12 Ribbons this year for a variety of different products. Winners took home the Grand Champion Prize in the "LOAF" Category for our Honey Pork & Beef Loaf and Grand Champion in "Specialty Class" for our NEW Flank Steak Roll Up & currently a Greenville Farm exclusive. Winner's won Reserve Champion in four more categories for products that include our Sweet Italian Whole Hog Sausage Brat, and Smokey Snack Sticks. In the "Slab Bacon, Skin-On" category, our Osgood Plant won Reserve Champion & Greenville took First Place - double award winning Winner's Smoked Bacon! We took home five other 1st place wins , after 90 years & 4 generations, "Quality" is still our number 1 priority, and we're still bringing home the ribbons to prove it!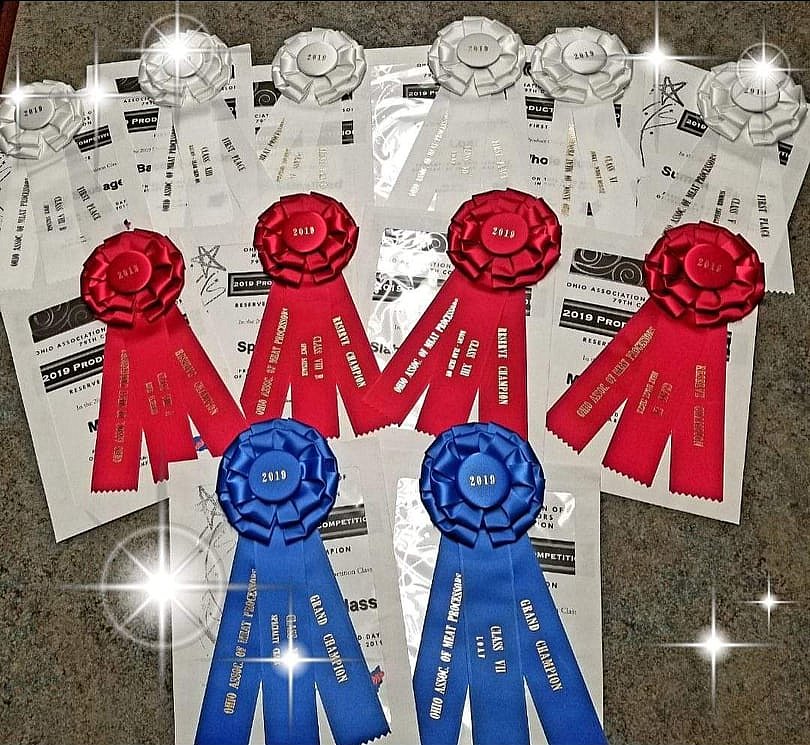 ---
NOW ONLINE!
CHAPEL HILL PRESCHOOL
2019-2020 REGISTRATION
Open enrollment starts March 1, 2019 @ 6:00AM
Please register your child using the form on our website:
https://sites.google.com/site/chapelhillpreschool/
(or access our site on the Marion Local homepage under Elementary tab)
**All registrations will be time stamped and students will be placed on a first come-first serve basis.**
Prekindergarten:
Monday/Wednesday/Friday
8:15-11:15 or 12:15-3:15 for children attending 1 year prior to kindergarten
Preschool:
Tuesday/Thursday
8:15-11:15 or 12:15-3:15 for children attending 2 years prior to kindergarten
Chapel Hill Preschool provides a child-centered curriculum for 3-5 year old children in the Marion Local and surrounding areas. Our philosophy promotes the whole child by helping children develop and grow cognitively, socially, emotionally, physically and creatively through organized developmental activities.
---
LEARN ABOUT THE MARION LOCAL FFA!
Click on the link below to download the Marion Local FFA brochure and learn more about the program.
---
VISIT AND LIKE OUR FACEBOOK PAGE!
Visit and like our Facebook page. You'll find great information, including:
- Updates on the St. John's Road Improvement Project
- Information about businesses expanding in the Marion Community
- Aerial photos taken of Maria Stein in 1963 by former village resident Don Gagel
- And much more!

Visit us on Facebook
---
MCDO MEMBERSHIP
The MCDO accepts memberships at any time during the year. Please join if you have not already done so by contacting admin@marioncommunities.com.