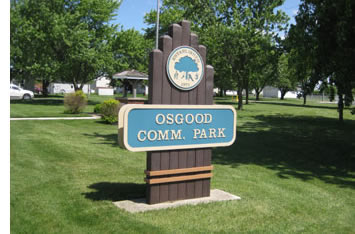 Osgood Park
Osgood Park is located on Main Street (also State Route 705), just to the west of State Route 716.
The park features two shelter houses, a ball diamond, tennis courts, basketball courts, horseshoes, multiple sets of playground equipment and a walking trail through the woods.
Osgood Park is supported by the village and fundraisers conducted by the board. Your support is appreciated!
RENTAL INFORMATION
The park shelter houses are available to rent for family, community or business functions. The rental fee is $50. For more information, please contact:
Alan Wendel— 419-582-4502
---
OSGOOD PARK BOARD
The Osgood Park Board oversees the maintenance and development of the park, as well as handling funds generated by fundraisers.
OSGOOD PARK BOARD MEMBERS
Alan & Nadine Wendel
419-582-4502
Dan & Carla Grieshop
419-582-2412
Ron & Wanda Lange
419-582-5000
Don & Patty Meiring
419-582-2049
Ron & Julie Reichert
419-686-3772
Randy & Gail Wendel
419-582-2705
Alan & Nancy Winner
419-582-5821
Brian & Beth Winner
419-582-2702
PHOTO GALLERY
Click on the links below to view larger images.