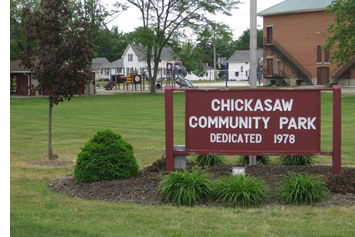 Chickasaw Park - East
Chickasaw Park East is located next to Precious Blood Catholic Church on Maple Street. This is also the site of the Chickasaw Picnic, which is held annually on the second weekend in June. The Chickasaw parks are funded by this event. Your support is appreciated!
Chickasaw Park East features a shelter house with restroom facilities, playground equipment, tennis courts, volleyball courts, basketball courts and an open grassy area for recreational activities.
RENTAL INFORMATION
The park shelter house is available to rent for family, community or business functions. The rental fee is $45. For more information, please contact:
Kelli Thobe — 419-925-5810
---
CHICKASAW PARK BOARD
The Chickasaw Park Board oversees the maintenance and development of both Chickasaw Park East and West, as well as handling funds generated by fundraisers.
CHICKASAW PARK BOARD MEMBERS
Rick Moeller, President
419-925-6128
Jay Huelsman, Vice President
419-925-4218
Karen Rose, Secretary
419-305-6695
Travis Homan, Treasurer
419-925-0213
Don Arling
419-925-6404
Maurice Grieshop
419-925-4911
Nate Liette
419-925-4724
Ben Moeller
419-925-0250
Dan Platfoot
419-925-5108
Kelli Thobe
419-925-5810
PHOTO GALLERY
Click on the links below to view larger images.