Welcome to the Marion Communities!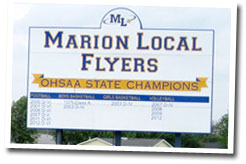 The Marion Communities encompass the area served by Marion Local schools in Maria Stein, Ohio, including Cassella, Chickasaw, Maria Stein, Osgood, St. Sebastian and St. Rose. All of the communities are located in southern Mercer County, with the exception of Osgood, which is located in northern Darke County.
The area is largely homogeneous German Catholic, as reflected by the existence of a vibrant Catholic church in each of the six communities as well as the hard work ethic instilled in its residents. The area is also intensely agricultural with high concentrations of live stock.
Mercer County often has the lowest unemployment rate in the state and Mercer and Darke counties are traditionally among the leaders in agricultural production. The Marion Community contributes significantly to both of these accomplishments.
In the Marion Community, you'll find quality housing, an outstanding school system, thriving businesses, excellent public parks and recreational facilities, a strong religious foundation and a feeling of community that very few places can boast of.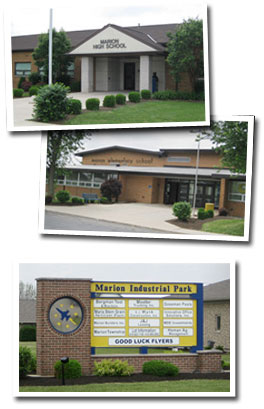 QUALITY EDUCATION
Marion Local produces outstanding students who excel both academically and athletically. Our school system consistently receives "Excellent" ratings by the state. It is a member of the Midwest Athletic Conference, garnering numerous state titles in serveral sports. We invite you to explore Marion Local Schools and learn more about the quality education they offer.
BUSINESS OPPORTUNITIES
You'll find that there are exciting business opportunities for you to work, or start a business here. The Marion Community and surrounding communities support a wide variety of businesses and industries employing local residents. We are proud that many young professional couples have "moved back" choosing to raise their families here because of the quality of life inherent in the community.
Furthermore, we have a strong commitment to promoting economic growth. We are continually progressing and developing, as illustrated by the growth of new homes, local businesses and a modern industrial park. Our commitment to help businesses succeed is one of the things you can depend on when considering the Marion Community for the home of your business.
PARKS & RECREATION
The Marion Community boasts wonderful and well-kept park and recreational facilities. These include Marion Township Park, Osgood Park, Chickasaw Park East and Chickasaw Park West.
Collectively, the parks feature ball diamonds, batting cages, soccer fields, volleyball courts, tennis courts, horseshoes, a frisbee golf course, shelter houses, restroom and concession facilities, playground equipment, open grassy areas for recreational activities, outdoor grills and firepits, walking trails and more!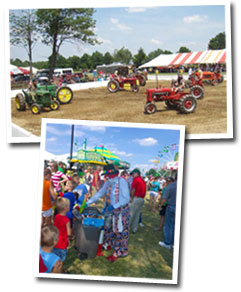 LOCAL FESTIVALS
The Marion Community is known for their annual festivals — the Maria Stein Country Fest and the Chickasaw Picnic. Both feature free admission, parking and entertainment.
These fun-filled festivals provide activities and entertainment for all ages. Enjoy the nationally known Country Fest Tractor Square Dance, a tractor pull, cruise-in car show, rides, games and a petting zoo, just to name a few. Take part in a volleyball, basketball, corn hole or dodge ball tournament, Mini-Indy races, Diaper Derby, a 5k run and much more!
Local bands play music for all ages throughout the weekend long festivals, and there is always plenty of food to satisfy everyone's palate!
RELIGIOUS FOUNDATION
The Marion Community was built on a strong religious foundation. That foundation is evident as you approach each community and notice a vibrant catholic church. These churches include Nativity of the Blessed Virgin Mary, Precious Blood, St. John the Baptist, St. Nicholas, St. Rose and St. Sebastian. The structures highlight the hard work and dedication of the early German Catholic settlers of the region.
All of the Marion Community churches as well as other area religious attractions, including the Maria Stein Shrine of the Holy Relics, a former convent, and the St. Charles Senior Living Community in Carthagena, a former seminary, are registered on the National Register of Historic Places and are a part of the Land of the Cross-Tipped Churches Byway. Additional information about the Land of the Cross-Tipped Churches can be found through the following links, provided by the Ohio Department of Transportation and Wikipedia.